Smile Makeover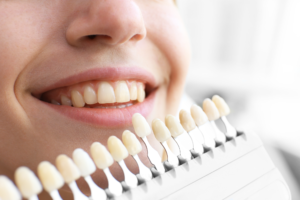 If you are unhappy with certain aspects of your smile, you could qualify for one or more of our many cosmetic dental treatments. Investing in the appearance of your smile will give your self-confidence a boost and could improve your overall quality of life. At Dental Health International, we offer a wide range of cosmetic services and treatments that will give your smile a complete makeover.
Porcelain Veneers – In 2 appointments, your smile can be changed through the placement of veneers. Porcelain veneers are tailored to your new smile design, and are permanently bonded to the outer surface of each tooth.
Crowns – When a tooth needs maximum protection or enhancement after conditions such as nocturnal grinding, cavities, or root canals, a crown is needed. Using our intraoral scanners, we can restore the normal form and function of your teeth, without all the mess!
Dental Implants – Dental implants are the best replacement option after teeth have been lost. Each implant will have attached to it a custom porcelain tooth restoration that will give you a beautiful and natural-looking smile. Dental implants and restorations are considered permanent, if taken care of properly.
Zoom Whitening – If you are looking for a brighter smile, consider our in-office whitening system. In just 1 hour, your smile can appear more radiant!
Orthodontics – Orthodontics is a dental specialty surrounding the diagnosis and treatment of misaligned teeth and bites. We offer both traditional (metal) braces and Invisalign. Orthodontics can cosmetically enhance your smile, and is often used in combination with veneers and crowns in order to achieve your smile goal.