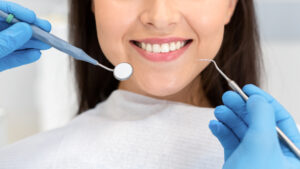 Do you want to have the whitest teeth possible in just one visit? Zoom! Teeth Whitening in Chelsea, MA is a revolutionary tooth whitening system that can lighten your teeth up to 8 shades in less than an hour. It's safe, fast, and effective – so you can achieve the smile you've always wanted.
The Popularity of Teeth Whitening and Zoom!
A whiter smile can make you look younger, healthier, and more attractive. Teeth whitening is one of the most popular cosmetic dentistry options because it tends to be less expensive than most alternative treatments such as veneers. And it's fast. You can have a smile that looks brand-new in no time. Also, it's comfortable. There is little to no discomfort involved with treatment. You can sit back and relax at our comfortable Chelsea dental office and let us work our teeth whitening magic. Zoom! Teeth Whitening is one of the most popular ways to achieve a brighter smile quickly.
What is the Teeth Whitening Process?
With our professional Zoom! Teeth Whitening services, you can see an immediate difference in the whiteness of your teeth – often up to eight shades lighter. The Zoom! process is safe for both teeth and gums. 
The Zoom! process includes a special gel that we apply to the teeth. We then use a special light to activate the gel, which helps to break down stains and discoloration.
For best results, patients should follow up with regular at-home teeth whitening routines. However, even just one treatment with Zoom! can help to improve the appearance of your smile significantly.
Professional Teeth Whitening vs. Store-Bought Products
When it comes to teeth whitening, there are a lot of different products on the market. However, not all whitening methods are created equal.
One of the most effective ways to achieve brighter teeth is through professional Zoom! Teeth Whitening. This process uses a strong whitening gel that is activated by a special light, resulting in noticeably whiter teeth in just one session. 
Additionally, the Zoom! Whitening process is supervised by our trained dental professional, who can ensure that the gel is applied correctly and that your teeth are protected from any potential damage.
When compared to store-bought whitening products, which often produce lackluster results, it's no wonder that Zoom! Teeth Whitening is such a popular choice. Thanks to its safety, convenience, and effectiveness, Zoom! Teeth Whitening is the perfect way to achieve a brighter smile.
Who is a Good Candidate for Teeth Whitening?
Most people are good candidates for teeth whitening. The treatment is safe for most people, and it can be performed on patients of all ages. However, there are a few exceptions. People with sensitive teeth may experience discomfort during the treatment, and people with gum disease may find that their gums become irritated.
In addition, people with certain types of tooth discoloration may not see results from teeth whitening. For example, people with yellowing teeth due to smoking or staining from food and drink may not notice a significant difference after whitening.
The best way to determine if you are a good candidate for teeth whitening is to consult with Dr. Guna, Dr. Deshmukh, Dr. Agranovich, Dr. Lin, Dr. Zaboulian, or Dr. Hariwala. They will be able to evaluate your individual case and advise you on the best course of action. If teeth whitening is not for you, we can offer some alternative recommendations that you may love. 
Get a Dazzling White Smile in Chelsea, MA
You don't have to live with stained or yellow teeth any longer. With Zoom! Teeth Whitening, you can achieve a brighter, whiter smile in just one visit. Our clinic offers a comfortable and relaxing environment where you will feel at ease.
Call us to Schedule an appointment today for Zoom! Teeth Whitening at Dental Health International.