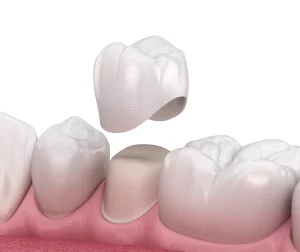 Do you have a chipped or damaged tooth? Don't be concerned; we can help! DHI takes pride in investing in cutting-edge dental technology to make your care more personalized, accurate, and accessible. Same-day dental crowns in Chelsea are one of the fantastic services we provide in our dental office. Schedule a consultation today with Dr. Jeya Guna, Dr. Luxmi Guna, Dr. Oleg (Alex) Agranovich, Dr. Jubin Zaboulian, or Dr. Rekha Hariwala
What are Dental Crowns?
A dental crown is one of the most popular treatments for a tooth that is damaged by either cavities or fractures. A crown, which can be used for practical or purely aesthetic reasons, is essentially a cap that fits over the top of an existing tooth. A custom-made crown is placed over the entire tooth to return the tooth to its normal size and shape.
Why Do I Need a Dental Crown? 
Dental crowns are an essential type of restoration. You may have a broken or chipped tooth that is susceptible to further damage or decay that will further weaken the tooth. Perhaps your tooth had an infection that required root canal therapy. In any of these situations, we can use a dental crown to preserve your remaining tooth structure and restore your ability to chew, smile, and talk.
Benefits of Dental Crowns in Chelsea
The following are some advantages of dental crowns:
When maintaining proper oral hygiene instructions and post operative instructions, dental crowns can last as long as 10 to 15 years

Enhance esthetics

Stain-resistant

Smooth to touch and against your tongue

Restore and protect chipped or brittle teeth

Cover huge fillings, heavily stained teeth, and straighten crooked teeth 

Cover a dental implant
Ceramic and Zirconia Dental Crowns in Chelsea
Some crowns are made from ceramic or zirconia  material, and we can match them to the color of your natural teeth. They are strong and durable and can last for many years with proper care. Ceramic and Zirconia crowns are more aesthetic than porcelain fused to metal crowns, which can show as dark gray if there is any gum recession. Ceramic and zirconia crowns offer a more natural-looking option for people who want to improve the appearance of their smile. If you are considering ceramic or zirconia crowns, talk to your dentist about the benefits and risks of this treatment option.
Same-Day Dental Crowns Chelsea 
A same-day dental crown is an efficient solution to enhance the appearance and functionality of your smile. Using our Cerec technology, we can deliver a Cerec made dental crown in just 2 hours! Usually, it takes two appointments to make a dental crown, and the temporary crown is subject to fall off repeatedly, creating even more of a nuisance. However, at DHI, we have been able to accommodate the busy lives of our patients by delivering dental crowns in just 2 hours. 
Dental Crown Procedure
The same-day crown procedure begins with the dentist preparing the tooth for the crown. Your dentist will remove any damage or decay. A digital impression of the preparation is then completed and used to make a ceramic crown in our office. Once the crown is ready, it is placed on the tooth and secured with a specialized cement. The same-day dental crown procedure is generally quicker and less invasive than traditional crown procedures, all while providing same-day results. You can expect your same-day dental crown to look and function like your natural teeth. With proper care, your same-day crown should last for many years.