Pediatric Dentistry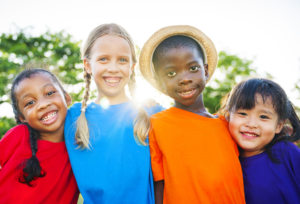 In our office, as soon as you step through the door, you are considered family! Our dental professionals have undergone specific training to learn how to cater to each patient, for both adults and our bite size patients!
We have noticed that it is extremely important for your child to develop a positive and exciting relationship with coming to the dentist. Having your child come to the dentist as early as when their first tooth arrives will likely increase the health of their smile.
Pediatric Services 
Professional Cleanings – Just as for adults, we recommend that children get regular cleanings every 6-months to remove plaque and limit the risk of cavities. It can be difficult for children to clean their teeth properly, so through professional cleanings, we can deep clean hard-to-reach areas that are, more often than not, missed.
Professional Examination – Our dental professionals are trained to spot even the tiniest bit of decay located on a tooth. After routine cleanings, it is standard for the dentist to examine the teeth and point out areas of decay that need to be fixed.
Sealants – Although dental sealants are encouraged for patients of all ages, we highly recommend children obtain sealants to help prevent cavities. Sealants act as an umbrella that will protect the chewing surfaces of molars from the acid, cavity causing rain that comes from food and lingering plaque.
Explanation & Education – For significantly younger patients, the dental materials and instruments used can be pretty intimidating. We do our best to explain what each tool does, and even let the patients see how it works to limit their fear. Additionally, education is the first step in prevention. Demonstrating to patients on how to care for their teeth at home is one of the best ways to prevent decay or damage to teeth.
Here are some FAQs about Pediatric Dentistry:
What age should I take my child to the dentist for the first time?
It is recommended that you take your children for their first dental appointment when they are around six months old. If you notice that your children have discolored teeth, you will want to bring them in before this.
What should I use to clean my baby's teeth?
Any soft-bristled toothbrush with a small head. There are ones designed specially for infants that are perfect to use at bedtime.
What should I do if my child has a toothache?
First, you will want to rinse the irritated area with warm water and place a cold compress on your child's face it if is swollen. You can give your child acetaminophen for the pain. Once you do this, make sure that you see your dentist as soon as possible.
How can I prevent decay caused by nursing?
Try to avoid nursing children to sleep or putting anything other than water in their bedtime bottle. Also, make sure that you learn and teach your children the proper way to floss and brush at a young age. Taking your children to the dentist regularly to have their teeth checked will help them learn lifelong habits.
Providing your children with a fun and comfortable experience here in our office is one of our top priorities. At Dental Health International, we want nothing more than for each of our patients to trust us in helping them maintain a beautiful, healthy smile. If you are in the Chelsea, Massachusetts area and need family-oriented dental care, please give us a call or stop by our office to learn more about all that we can offer you!