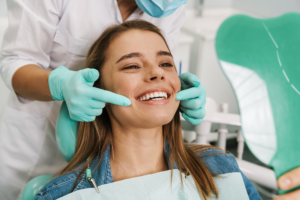 Our first objective at Dental Health International is to assist each customer in achieving their ideal smile. Our services can help people of all ages, young or grown. We understand that you've invested a lot of time and money into getting a confident smile, and we want to help you keep it for as long as possible. We provide general dentistry to all your family members at our Chelsea, Massachusetts facility. We recommend that everyone in the family visit the dentist twice a year to help take care of their teeth. We encourage you to keep reading to understand more about general dental operations and how they can help you create a beautiful and lasting smile. 
Dental Exams: Exams and x-rays are among the most significant components of a bi-annual appointment. An exam and x-ray enable us to discover and handle any potential issues as fast as possible. The examinations are painless and straightforward. Digital x-rays should be done at least once a year. Our hygienists are highly qualified and capable of doing these examinations on each patient. These exams and x-rays let us know how to keep your teeth healthy and avoid illness and decay. They also aid in developing appropriate dental hygiene practices in young children and teenagers and the proper and healthy eruption of adult teeth.
Professional Cleanings: We will clean your teeth professionally after x-rays and exams. While we encourage you to clean your teeth properly and thoroughly at home, we understand that getting to the back molars can sometimes be difficult, especially for younger children. Deep cleanings help avoid cavities and periodontal disease by adequately removing all plaque and bacteria. We provide cleanings for both children and adults, as baby teeth have a unique structure than adult teeth and require different treatment. We are ready to assist you and your entire family. Our cleanings and exams are something that you can trust.
Fluoride: We provide fluoride after each cleaning. Treatment with fluoride is optional; however, we highly recommend it. Fluoride is a sticky chemical applied to your teeth' surface to bolster the enamel. It will make your teeth more bacteria-resistant, resulting in fewer cavities over time. Fluoride is good for everyone!
Sealants: Sealants are made of a dental resin applied to the crowns of teeth and then hardened. One of the most effective strategies to avoid cavities is to use sealants. This is why we recommend them for younger children, but anyone can use sealants. Sealants prevent cavities in children while still learning appropriate oral hygiene habits. Limiting the number of cavities in their baby teeth will help to strengthen their adult teeth. 
Dental Health International is one of the best places to get a dental checkup. We have the highest qualifying staff with the best education. When you come into our office, you can know that you are in the best hands possible. Please bring your entire family with you when you arrive, as there is something here for everyone. We will work with you to find the best and quickest restoration method available if any issues are found. Dr. Guna and her team will help you feel right at home. If you or a loved one is nervous about a dental appointment, please let us know, and we are happy to talk through some accommodations we have. 
General Dentistry in Chelsea, Massachusetts
If you are in Chelsea, Massachusetts and are looking for a local dentist, see us today! We accept new patients all the time, and we would love to help you on the road to a better smile!