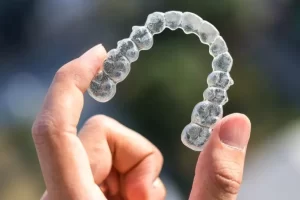 You don't have to be self-conscious about your smile anymore. Imagine being able to show your teeth with confidence, even when you're receiving orthodontic treatment. Invisalign at Chelsea is a new way to straighten teeth without braces. They're clear aligners that are comfortable and practically invisible, so you can keep showing off your beautiful smile while straightening your teeth in Chelsea, MA.
What is Invisalign, and How Does it Work?
Invisalign clear aligners at Chelsea are a popular orthodontic treatment that can be used to straighten teeth and correct bite alignment. The aligners are made from clear plastic, virtually invisible when worn.
Invisalign clear aligners work by gradually moving your teeth into the desired position. Each aligner is designed to apply a specific amount of gentle yet measured force to your teeth, and you will need to wear a new aligner every few weeks as your teeth slowly shift.
The entire treatment process usually takes around 9-12 months, but this can vary depending on the individual patient. If you are looking for an effective and discrete orthodontic solution, Invisalign clear aligners may be right for you.
The Benefits of Invisalign
There are many benefits of Invisalign, including:
Straightens Teeth Without Braces
Traditional braces are an excellent, affordable orthodontic solution, but some patients prefer a less visible option on the teeth. Invisalign uses clear aligners that are practically invisible.
The clear aligners are sleek, smooth, and fit right against your teeth. Unlike traditional braces, which can irritate the gums of some patients, the clear aligners are comfortable.
You can take out the clear aligners to eat, brush your teeth, and floss. This is not possible with traditional braces.
When you speak, smile, and laugh, others probably won't even be able to tell you're wearing braces.
How to Care For Your Clear Aligners
It's essential to clean your aligners regularly to prevent the build-up of plaque and bacteria. The best way to clean them is to soak them in a solution of mild soap and water for at least 15 minutes. You can also brush them using a soft-bristle toothbrush. Be sure to rinse them thoroughly before putting them back in your mouth. You can ensure that your teeth and aligners stay in great shape throughout your treatment with a bit of care and attention.
Who is a Good Candidate for Invisalign?
Chelsea-area residents seeking to achieve a straighter and more symmetrical smile may be candidates for Invisalign aligners. The treatment is ideal for those who have mild to moderate tooth misalignment and gaps or crowding. Additionally, patients must be at least 12 years old and have all of their permanent teeth.
With that said, the Invisalign system can treat a wide range of dental issues, making it an option for many patients looking to improve their smiles.
How Much Does Invisalign Cost?
The cost of Invisalign depends on the severity of your case. However, it can be more affordable than alternative orthodontic and cosmetic dentistry options. We can provide cost estimates for your customized treatment plan during your consultation. We accept most major credit cards and insurance plans and would even be happy to help you fill out your insurance paperwork. And we offer affordable payment plans to help make our quality dentistry service accessible to anyone in the Chelsea area.
The Sure Way to a Beautiful Smile in Chelsea
With Invisalign, you can get the beautiful, straight smile you've always wanted in just 12 months without going through the hassle of traditional braces. Plus, since they're custom-made for each patient, they're perfect for people with unique dental needs.
Schedule an appointment today at Dental Health International with Drs. Guna, Deshmukh, Agranovich, Lin, Zaboulian, or Hariwala. We offer free consultations so that we can create a treatment plan tailored specifically for you.